dock10 – Live Esports Playout
Giants of the television world and based in Media City, Ziax worked closely with Dock10 to deliver multiple language streams to a variety of channels for a major esports tournament.
A Global, Multilingual Audience
In a world with a global audience, supporting localised languages is a key factor in viewership retention, as such we were tasked with streaming multiple languages to several platforms, including YouTube, Facebook and Twitch.
With that combination of multiple platforms and multiple languages per platform this event required a total of 18 streams.
To deliver this event smoothly, we turned to cloud-based resources, spreading the load over 10 cloud servers allowed us to meet client demands whilst maintaining a stable and redundant internet connection. Our cloud partner registered latencies of less than 5ms to all of the major platforms.
We believe that a smooth experience for the end viewer is of paramount importance, so we used our in house talent to develop a custom solution to fit the needs of Dock10.
Building off the open-source tool ffmpeg and using our deep insight on cloud-based computing from our game studio we were able to quickly and cost effectively create a solution for us to manage matrixed playouts.
Adaptive Ingest & Playout
We ingested all content and pre-encoded it for efficient playout. This was an automated part of our solution and meant compute requirements during show-live were vastly reduced.
If required, the software allows us to scale out more cloud resources as needed to handle simultaneous broadcasts from 1 YouTube Live stream to hundreds of varied platforms and languages.
Stream and Fleet Error Recovery
If any individual stream experienced issues with connectivity, quality or were to drop entirely, the software would automatically restart the stream with minimal impact to viewers.
Should one or more of the cloud servers used were to fail during the stream, all streams handled by that server would automatically be sent out by a stand-by server in a different Availability Zone within only milliseconds, resulting in almost no visible impact to the livestream.
Throughout the event all streams and cloud instances were closely monitored for any abnormal behaviour, we produced our own in-house monitoring dashboard to facilitate this and have key statistics like dropped frames, outgoing bandwidth and similar available on easily viewable graphs. Further to that, we provided all of these graphs to our client at their premises and ran the whole operation from their base in MediaCity, to provide faster communication and collaboration by being in the same room.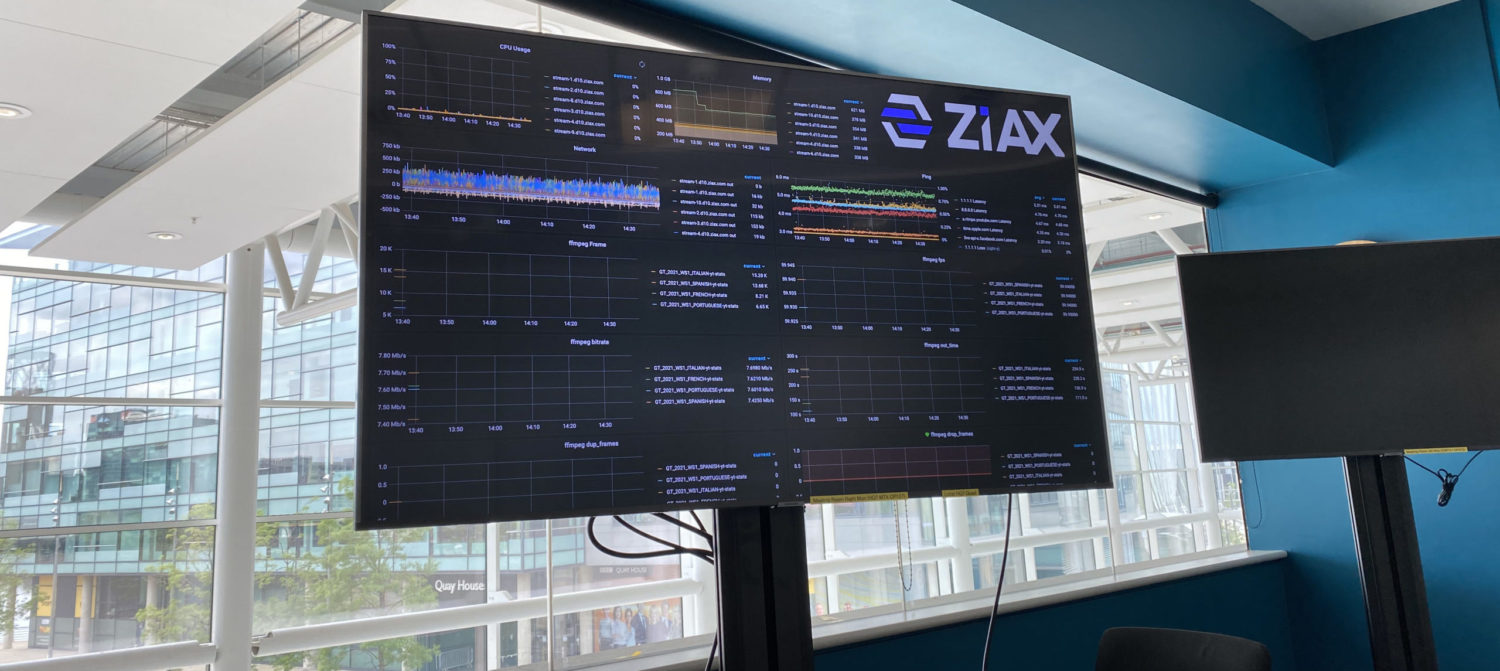 We look forward to our continued partnership with Dock10 to deliver more and more large scale multi language broadcasts to viewers all around the world.